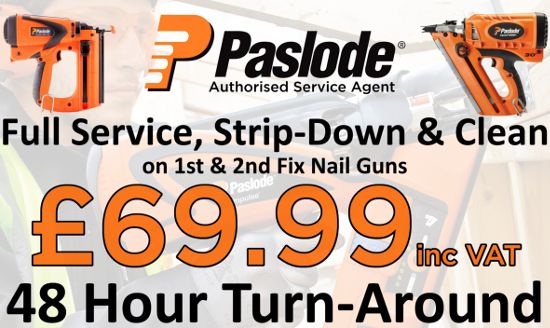 Paslode Repairs & Servicing
Fast & Hassle Free Repairs and Servicing
We have been repairing and servicing Paslode Nail Guns for the past 15 years in the North West from our Liverpool City Centre Shop.
Our Services & Repairs are carried out by our 2 Paslode Certified Repairmen Dave and Ed here on site. Because of this you can be sure that your Paslode nailer will be serviced to the highest quality and standard as Paslode have recommended and laid out in there servicing guides.
As a fully certified Paslode Sales & Repair Agent we only stock and fit genuine spare parts and accessories to your machine plus we never use cheap alternative gas or nails when testing after a repair or service has been carried out.
Full Clean & Service
Price - £69.99 inc VAT
Turn Around – 48 Hours
This includes:-
· Full Strip Down
· Deep clean in our High Temperature Parts Washer
· Thorough testing after the machine is re-built
Standard Repairs
Price – Quotation upon inspection
Turn Around – 48 Hours (if the parts needed are in stock)
This includes:-
· Initial testing to assess the fault or problems
· Full strip down & hand clean
· Thorough testing after the machine is re-built
If you have any questions regarding our Paslode repairs or any other brand repairs just give our team a call on 0151 207 1400