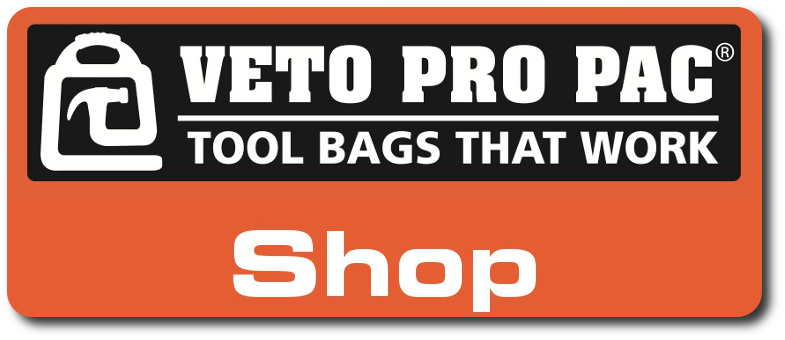 Welcome to the Power Tool Centre Veto Pro Pac UK Shop
Looking for a new Tool Pouch, electricians Bag, Tote Bag, or Backpack?
Then your in the right place. Veto have an extensive range of Closed Bags, Open Totes, Backpacks, and Pouches.
Made from the most durable and hard wearing materials such as marine grade rivets, 3mm polypropylene plastic, 1200-1800 denier nylon fabric, and Industrial strength leather edges.
The Veto product line is split into 3 different ranges,
Contractor series

- A selection of closed top tool bags and open top totes to cater for all proffesionals within the trade that need a wide range of tools to hand.
This range includes the LC, XL, XXL-F, OT-LC, OT-XL, and the OT-XXL
Laptop Series

- Designed for the working professional, with managers, site foreman kept in mind throughout the production process. Perfect for anyone that needs to go to site for quotation jobs or even simple diagnostics, these bags have space for laptop or tablet paperwork and some space for tools.
This range includes the LT & XLT
Tech Series

- These bags are perfect for the service technicians, electricians, plumbers, joiners, and carpenters that need a wide range of hand tools, testers, gauges, and meters to hand no matter where they are or need to go. With a choice of Backpack, Closed Top Bags, and Pouches, its everything you need and more!
This range includes Tech PAC, Tech LC, Tech XL, MB, MB2, TP3, TP4.